Spanish cabin crew pose for a sexy calendar to
raise money for back pay after their airline,
Comet Air, went broke.
Thai low-cost airline, Nok Air, have created a stir by dressing sultry models in bikinis for a Maxim magazine shoot.
The images feature in a calendar used to promote the youthful, sexy appeal of the airline.
But the Thai Culture Permanent Secretary, Prisana Pongtatpitakkul, has objected to the overt use of women's bodies as a marketing tool.
"They lack the sense of social and cultural responsibility and ignore social and cultural repercussions - particularly female dignity," she told The Nation.
Although they're not happy with the message it sends, the ministry admits they can't take any action against Nok Air because the company hasn't broken laws by producing the calendar.
Ryanair crew get their kit off for the
airline's annual charity calendar
Nok Air chief executive Patee Sarasin brushed off the criticism and said the airline hasn't crossed the line.
"It was supposed to be a gift to our customers, and so far the campaign has received positive feedback, increasing the number of passengers. There were so many viewers that the webpage crashed," he told a Bangkok newspaper.
Nok Air are by no means the only airline to feature nude or semi-nude flight crew for promotional purposes.
Other airlines to exploit the sex appeal of their female flight attendants include Ryanair, Aeroflot and Varig. And these examples are unlikely to be the last.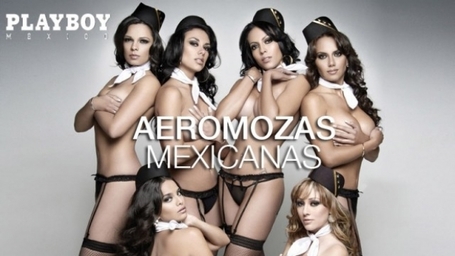 A group of flight attendants from Mexicana airlines, which has
been in limbo since suspending operations, pose almost nude
in a 2011 month's edition of Playboy Mexico
Three former Varig crew go the full monty for Playboy